THE INAUGURAL LECTURE SPEAKER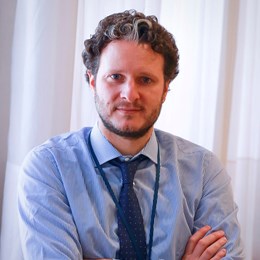 Professor Giorgio Primiceri
Giorgio Primiceri's research interests are in macroeconomics and applied time-series econometrics. His work has primarily focused on understanding the causes and propagation mechanisms of macroeconomic fluctuations, the effect of monetary policy on business cycles, and the role of household debt and house prices in macroeconomic dynamics. He was the recipient of a Sloan Foundation Research Fellowship. He is a research associate of the National Bureau of Economic Research, a research fellow of the Centre for Economic Policy Research, and a member of the CEPR Euro Area business cycle dating committee. He is also a co-editor of the American Economic Journal: Macroeconomics.
Join Professor GIORGIO PRIMICERI from NORTHWESTERN UNIVERSITY for a thought-provoking discussion
U.S. inflation used to rise during economic booms, as businesses charged higher prices to cope with increases in wages and other costs. When the economy cooled and joblessness rose, inflation declined. This pattern changed around 1990. Since then, U.S. inflation has been remarkably stable, even though economic activity and unemployment have continued to fluctuate. For example, during the Great Recession unemployment reached 10 percent, but inflation barely dipped below 1 percent. More recently, even with unemployment as low as 3.5 percent, inflation remained stuck under 2 percent. What explains the emergence of this disconnect between inflation and unemployment? This is the question Giorgio Primiceri and his co-authors address in "What's Up with the Phillips Curve?," published recently in Brookings Papers on Economic Activity.
Watch the inaugural lecture