Events & Facilities Coordinator [Closing date: 15 May 2022]
We are looking to appoint an Events & Facilities Coordinator. This is a Grade 5 position (£22,847 - £26,341). This is a Full Time role (0.8 negotiable) including some weekend and evening work.
Panmure House is Adam Smith's only surviving residence. Nestled in the Canongate at the heart of Edinburgh's World Heritage site, the house stood vacant for many years, suffering significant neglect as a result.
Edinburgh Business School and Heriot-Watt University rescued the house in 2008. A decade later in 2018, it opened formally as a new centre for thought, debate and research in the spirit of Adam Smith. The Panmure House of 2022 and beyond is a 21st-century hub of economic debate and scholarship – designed to turn Smith's theories to practical use in the present day.
Summary of Key Duties and Responsibilities:
Administration
Respond to event enquiries and arrange venue show-rounds

Develop proposals and pricing (where applicable) for prospective clients

Follow up to secure bookings and issue contracts and invoices 

Record bookings following agreed protocol and ensure all bookings are communicated to relevant stakeholders
Event Planning [Internal]
Develop and follow project management timelines for events

Identify and secure relevant suppliers across various events
Event Planning [External]
Liaise with clients to understand exact event requirements

Work to support the client with pre-event planning to ensure clear ownership of tasks, e.g. Signage, guest speakers, delegate packs
Event Delivery
Ensure the venue is set up in a timely and professional manner

Coordinate relevant suppliers and event logistics such as av, it, catering, security, first aid, cleaning, etc.

Handle client queries and troubleshoot on the day of the event to ensure that all runs smoothly and to budget
Post-Event
Work with suppliers to oversee the dismantling and removal of the event and clear the venue efficiently

Arrange relevant post-event services e.g. Cleaning, security

Produce post-event evaluation to inform future events, if required

Finalise figures and paperwork for outstanding client invoicing
Facility Coordination
Maintain stock levels of cleaning equipment, bathroom amenities, light fittings &c

Ensure appropriate refreshments are on site for day-to-day hospitality

Liaise with HWU estates and external suppliers to ensure timely maintenance to the House's fixtures both internal and external, including but not limited to: windows, external doors/automatic doors, stairs, painting, lift maintenance, water treatments, pest control, waste disposal, interactive lobby touchscreens

Maintaining and providing access to the Panmure House key box

City Council liaison where required

Fire alarm testing

Seasonal coordination of heating system

Ensure tidiness and organisation of venue, regularly dispensing with any unnecessary items on site

Minor catering and cleaning away for small meetings
Please note this job description is not exhaustive, and the role holder may be required to undertake other relevant duties commensurate with the grading of the post. Activities may be subject to amendment over time as the role develops and/or priorities and requirements evolve.
SKILLS, ATTRIBUTES & EXPERIENCE
Excellent organisational skills and time-management skills

Attention to detail – understand your customers (internal and external) and go out of your way to exceed expectations

Confident communicator who deals with a range of situations in a calm and professional manner

Ability to work under pressure and to juggle multiple tasks/priorities

Excellent problem-solving skills, tact and diplomacy

Strong administration and IT skills with ability to adapt quickly to systems and related processes

A flexible, target-driven, proactive approach

'Can do' attitude with self-motivation and enthusiasm
Relevant Experience
At least 3 years' experience in an events planning role

Knowledge and experience of events industry and marketing

Project management experience desirable but not essential

Demonstrable experience in health and safety for events, and writing risk assessments
Qualifications
Food hygiene and liquor qualified

Desirable: qualifications in Event Management, HND or above
Application details 
The Closing Date is the 15th of May 2022. Applicants should submit their CV along with a cover letter detailing their suitability for the role.
Any questions regarding the recruitment process should be directed to panmurehouse@hw.ac.uk.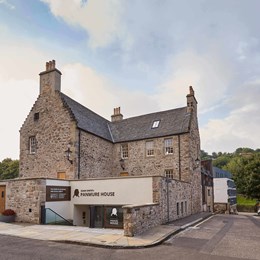 APPLY for the role
The Closing Date is the 15th of May 2022. Applicants should submit their CV along with a cover letter detailing their suitability for the role. Any questions regarding the recruitment process should be directed to panmurehouse@hw.ac.uk.
Apply via this link